MONOPOLY Live is an innovative online version of the immensely popular MONOPOLY board game, played in a live setting. In the main game, a lively game host spins a large wheel mounted vertically, while players make predictions on which segment the wheel will stop after the spin. Alongside, the virtual character MR. MONOPOLY awaits eagerly to engage in exciting gameplay.
To unlock the Bonus Game, you can bet on '2 ROLLS' and '4 ROLLS,' which will transport you to a virtual 3D Monopoly board. There, the iconic character Mr. Monopoly will navigate the board, collecting multiplier prizes on your behalf.
MONOPOLY Live Stream Crypto Gambling
MONOPOLY Live is an exciting and immersive game show that brings the classic Monopoly board game to life. It combines elements of a live game show with augmented reality, creating a unique and captivating gaming experience.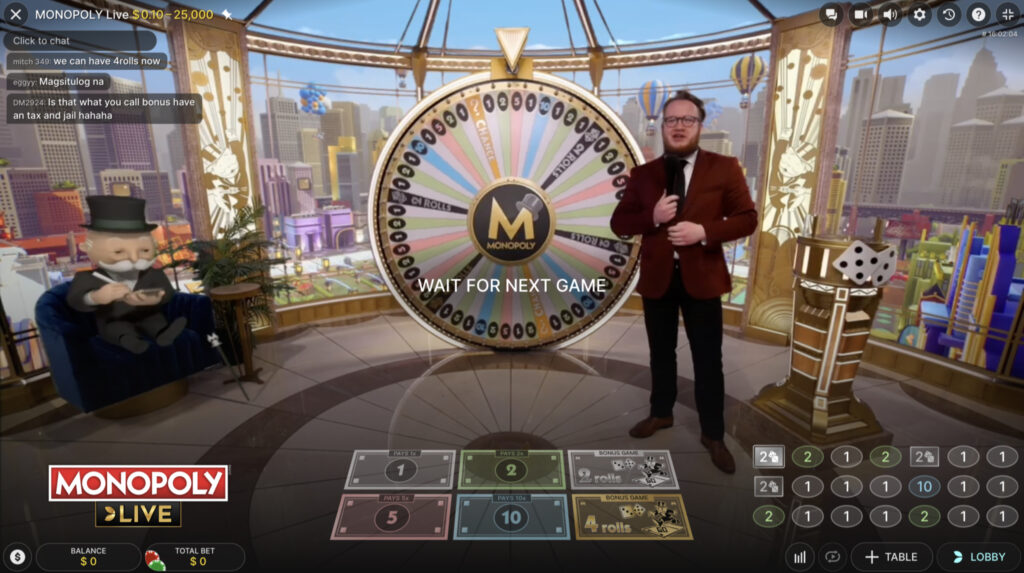 In Monopoly Live, players have the opportunity to place bets on different segments of a spinning wheel. The wheel contains various segments, including numbers and special bonus features like Chance and 2 Rolls. The goal is to predict where the wheel will stop and win corresponding payouts.
One of the standout features of MONOPOLY Live is the captivating 3D Monopoly board that comes to life when the wheel stops on Chance or 2 Rolls. Players are taken on a virtual journey around the board, collecting prizes and multipliers along the way. Mr. Monopoly himself, the iconic character from the board game, guides players through the immersive experience.
The game is hosted by a live presenter who adds to the excitement and interacts with the players throughout the gameplay. With its blend of chance, strategy, and immersive elements, MONOPOLY Live offers an entertaining and rewarding experience for fans of the classic board game and crypto casino enthusiasts alike.
Main Game Rules
To participate, simply place your bet on one of the segments available on the wheel: 1, 2, 5, 10, '2 ROLLS', or '4 ROLLS'. The game host will then spin the wheel, and the winning segment will be determined by the flapper at the top of the wheel when it comes to a stop. If the flapper lands between two segments, the winning segment will be the one the flapper was passing, considering the direction of the wheel.
Payouts are based on the odds associated with the winning segment. For example, if you bet on segment 5 and it wins, you will receive a payout of 5 to 1. Similarly, a bet on segment 10 will result in a payout of 10 to 1. Your original bet on the winning segment will also be returned along with your winnings.
The CHANCE segments Game
If the wheel lands on a 'CHANCE' segment, you will receive a card containing either a cash prize or a multiplier bonus.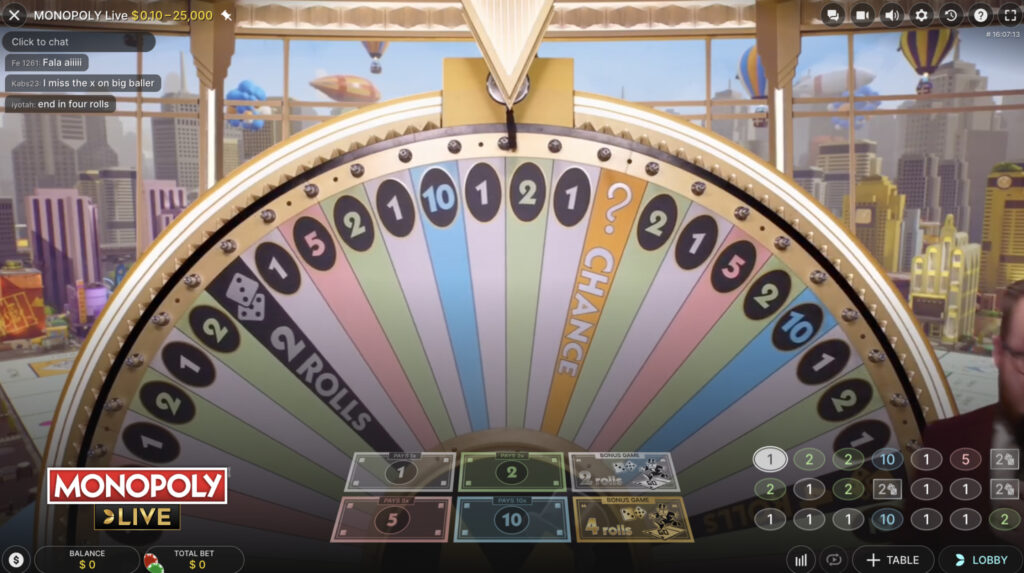 If you win a cash prize, your original bet will be returned along with your winnings.
If you win a multiplier bonus, your bets will remain in place. The game host will spin the wheel again, and your winnings will be multiplied by the awarded multiplier. If you receive another multiplier, your existing multipliers will be further multiplied. For example, if you bet €100 on segment 5 and you receive a Chance card with an 8x multiplier, your total winnings would be 100 x 5 x 8, which equals 4000. If the subsequent spin triggers a Bonus game, you can only win if you placed a bet on '2 ROLLS' or '4 ROLLS'.
Bonus Games in MONOPOLY Live
To participate in the Bonus game, place a bet on either '2 ROLLS' or '4 ROLLS'. If the wheel stops at either '2 ROLLS' or '4 ROLLS', the Bonus game will begin.
The Bonus game utilizes two dice. If the wheel lands on '2 ROLLS', the dice will be rolled twice. Mr. Monopoly will move around the 3D MONOPOLY board, collecting your cash and multiplier prizes. If the wheel lands on '4 ROLLS', the dice will be rolled four times.
The Monopoly board follows the layout of a regular Monopoly game, including Properties, Utilities, Free Parking, Railways, Taxes, Jail/Go to Jail, Chance/Community Chest, and GO.
Upon entering the Bonus game, Properties, Utilities, Railways, and Free Parking offer basic prizes.
As the Bonus game progresses, houses and hotels will be constructed on certain properties, increasing the prize values.
After rolling the dice, the virtual Mr. Monopoly advances the number of spaces indicated by the dice on the Monopoly board. Your total Bonus game winnings will be shown and added to your Bonus win. If Mr. Monopoly lands on the 'Go to Jail' space and moves to Jail, you must roll doubles (two identical numbers on the dice) to escape. All your previous Bonus winnings remain intact.
Rolling doubles grants an extra dice roll, except when used to exit Jail.
Landing on Chance or Community Chest spaces on the board can result in winning a random cash prize or incurring a fee.
During the Bonus game, taxes and fees are only deducted if your Bonus winnings allow it.
Passing 'GO' doubles the subsequent prizes on the board.
Income tax reduces your Bonus winnings by 10%, while Supertax reduces winnings by 20%.
When no more rolls are available, the Bonus game concludes, and all your Bonus winnings, along with your initial bet, are paid out. You then return to the main game.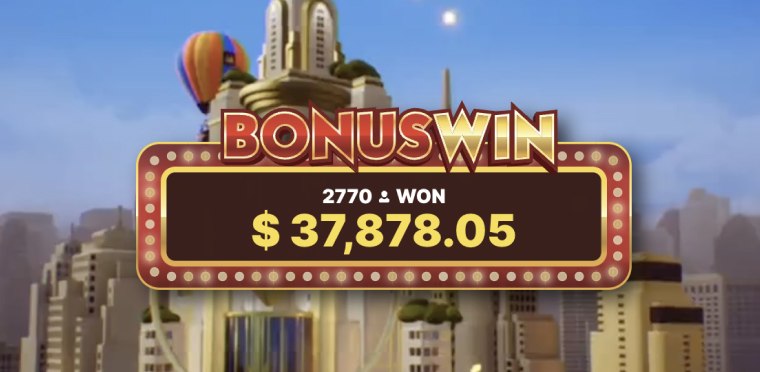 Betting Multipliers
All bets are paid out according to the odds corresponding to the number in the winning segment. For instance, if you win with number 5, you receive a payout of 5 to 1, while number 10 pays 10 to 1, and so forth. Additionally, the original bet placed on the winning segment is returned along with your winnings.
A game round is limited to $500,000 or 10,000x times your bet.
MONOPOLY Live game statistics
MONOPOLY Live provides an opportunity for strategic gameplay by utilizing analytics and wheel spin statistics. Players have two approaches to improve their chances of winning. Firstly, they can personally track their own data by accessing their round history and diligently recording the cumulative outcomes. This allows them to identify patterns and trends that might impact their future bets.
Alternatively, players can explore external services that offer comprehensive statistics and predictions related to the rapid succession of specific segments. These services employ complex mathematical calculations to predict the probability of certain outcomes. By leveraging these resources, players gain valuable insights to inform their decision-making process and potentially optimize their gameplay strategy.
MONOPOLY Live game tracker
With an online tracker, you have the ability to review the highest multipliers achieved during specific periods of gameplay sessions. This valuable information is accessible for over the last 500 game rounds. By selecting your desired time interval, you can obtain detailed statistics to aid your analysis. The tracker presents the results in two formats: as a percentage or in the form of a graph, offering you different ways to interpret the data. When playing MONOPOLY Live, it is wise to make bets based on the scores of specific sectors on the wheel. This strategic approach can contribute to increasing your balance over time. For a comprehensive overview of today's statistics, various online services provide estimations that can assist you in making informed decisions.
Spin History
Many services maintain a record of spins from the MONOPOLY Live game wheel. Within their results, you can discover:
Recently activated bonus games
History of additional multipliers
Results of regular multipliers
Maximum winnings achieved by players
Maximum multiplier applied to bets
All of this data is available for the desired time period. The spinning history of the wheel and the outcomes of recent game rounds are presented in real time on your screen, accompanied by a text version of the live stream.
MONOPOLY Live Round Prediction
MONOPOLY Live has earned its reputation as the ultimate gambling experience for a reason. Despite meticulous calculations of the approximate odds, the spinning slot possesses the ability to abruptly halt on an unforeseen segment, rendering precise predictions challenging. Mathematical models struggle to account for the occurrence of substantial multipliers or consecutive bonus games, as they defy predictable patterns.
Thus, accurately predicting the exact multiplier becomes a nearly impossible task. However, players can make rough estimations regarding the timing of a multiplier or a specific bonus game by analyzing the average probability based on the extensive historical data of the game.
How to bet in MONOPOLY Live
The CHIP DISPLAY allows you to choose the denomination of each chip for your bets. Only chips that can be covered by your current balance will be enabled.
Once you've selected a chip, place your bet by clicking or tapping the corresponding bet spot in front of the wheel. Each click or tap increases your bet by the value of the selected chip, up to the maximum limit for that type of bet. When you've reached the maximum limit, no further funds will be accepted, and a message will appear to indicate that you've reached the maximum bet.
Please note that during the betting time, it's important not to minimize your browser or open other tabs, as such actions may be considered leaving the game, and your bets for that round will be declined.
If you want to place a bet on all bet spots simultaneously, you can use the BET ON ALL button. The selected chip value will be placed on all bet spots at once.
The REPEAT button allows you to repeat all bets from the previous game round, but it's only available before placing the first chip.
Once you've placed any bet, the DOUBLE (2x) button becomes available. Clicking or tapping it will double all your bets up to the maximum limit. Please ensure that you have sufficient funds in your account to double all the placed bets.
If you need to remove the last bet you placed, you can use the UNDO button. You can repeatedly click or tap it to remove bets one by one in the reverse order of placement. Holding the UNDO button will clear all your bets.
The TOTAL BET indicator displays the total amount of all bets placed in the current round. In the example given, the total bet is $500.
Auto play mode
The total amount of your Autoplay bet is determined by multiplying the number of Autoplay rounds by the value of your total bet. This information is shown under each Autoplay rounds card. The remaining Autoplay limit is also displayed under each Autoplay rounds card once Autoplay has been initiated.
Your game will automatically continue for the designated number of Autoplay rounds, or you can choose to stop Autoplay by clicking or tapping the STOP button.
MONOPOLY Live Crypto Casino Game
The excitement of this live game show is taken to new heights by the charismatic dealer who skillfully spins the wheel, triggers captivating mini-games, and interacts enthusiastically with players through the live chat. It's no wonder that Monopoly Live has become a must-have feature in almost every modern online crypto casino, attracting a massive crowd of 10,000 enthusiastic participants during its busiest hours. With an average of around 3,500 players per session, it's clear that the game enjoys immense popularity.
Sites where to play MONOPOLY Live
Here are exceptional websites accepting cryptocurrencies as well as traditional payment methods that we highly recommend for enjoying the thrilling game of MONOPOLY Live:
⭐️⭐️⭐️⭐️⭐️ LTC Casino
100% anonymous crypto casino
LTC Casino was founded by a team of experienced casino enthusiasts who share a passion for creating an exceptional gaming environment. Their mission is simple: to deliver an unparalleled gaming experience that brings joy and excitement to all players.
✅ High withdrawal limits
✅ No restricted countries
✅ Massive collection of games
✅ Instantly withdraw your winnings
✅ Permits gambling with VPN
✅ 24/7 live chat support
---
⭐️⭐️⭐️⭐️⭐️ TRUST DICE
25 Free Spins + Up To $90,000 or 3 BTC
Number one Rated Crypto Casino In The World. Mind-blowing bonuses. Zero withdrawal fees. Flash-like customer support
✅ Instant Payouts
✅ No Withdrawal Fees
✅ 2 Mins Avg. Response Time
✅ 2000+ Games Available
✅ 100% up to 3 BTC Deposit Bonus
✅ 24/7 live chat support
---
⭐️⭐️⭐️⭐️⭐️ bit Starz
5 BTC Welcome Bonus + 180 free spins
bit Starz presents an extensive selection of casino games, encompassing slots, table games, live casino experiences, and more.
✅ Up to 10% cashback
✅ Instant withdrawals
✅ No wagering requirement
✅ Very high withdrawal limit
✅ Registration via Google, Facebook, Twitter, Telegram, Line, Apple
✅ 24×7 live chat support
✅ 4500+ games
---
⭐️⭐️⭐️⭐️⭐️ Stake
Stake Daily $100,000 Race!
Experience unbeatable crypto casino & sports betting online. Bet in BTC & more. VIP features include reload, rakeback & monthly bonus!
✅ Leading Software Vendors
✅ Fast and unlimited withdrawals
✅ 24×7 live chat support
---
⭐️⭐️⭐️⭐️⭐️ Fairspin
Welcome bonus up to 450% + 180 FS
Friendly, Transparent and Convenient Tokenized Casino With Play to Earn and Hold to Earn Programs.
✅ Tokenized and transparent casino
✅ Licensed games
✅ Generous bonuses and prizes
✅ Sports betting
---
You can also check out download page for download game app instructions.
If you encounter blocked content, consider using a VPN to access it.
Game Strategies
It's worth noting that strategic gameplay and money management strategies are key in the MONOPOLY Live game show. One strategy you can consider is targeting a 10x multiplier and implementing a progressive betting system after experiencing 9 consecutive losses. This approach aims to take advantage of the potential for a 10x multiplier and additional multipliers, which can lead to significant winnings.
By doubling your bet after a series of losses, you aim to maximize your playing time with your bankroll while increasing the chances of securing a guaranteed win. This strategy focuses on the main gameplay rather than solely relying on bonus features.
On the other hand, another approach is to actively pursue bonus features, which may result in higher profits. However, it's important to be aware of the risks involved, such as potential delays in triggering the bonus games or receiving lower bet multipliers. This is particularly relevant in the Coin Flip mini-game within the bonus feature.
How to win at MONOPOLY Live
Winning at MONOPOLY Live involves a combination of luck and strategy. Here are some tips to increase your chances of success:
Know the Rules: Familiarize yourself with the rules of the game, including the different sections of the wheel and the bonus features. This will allow you to make more informed decisions during the game.
Take Advantage of Multipliers: Pay attention to the multipliers on the wheel as they can significantly boost your winnings. If the wheel stops on a multiplier, your winning bets will be multiplied by that value.
Betting Strategy: Manage your bankroll and set limits for your bets. Consider placing bets on areas with more favorable odds, such as the "2 Rolls" and "4 Rolls" segments that offer a chance to play the bonus game.
Play Smart: Utilize the live interaction features with the host to gain additional tips and insights. They may provide helpful information about the wheel or offer strategic suggestions.
Be Aware of Odds: Understand that MONOPOLY Live is a game of chance, and the outcomes are determined by a random number generator. There is no guaranteed way to win, so play responsibly and enjoy the experience.
By following these tips, you can increase your chances of achieving positive results.
Payouts
Segment on Wheel
Number of Segments
Pays
1
22
1 to 1
2
15
2 to 1
5
7
5 to 1
10
4
10 to 1
CHANCE
2
Random cash prize/multiplier
2 ROLLS
3
Bonus game
4 ROLLS
1
The maximum payout for your winnings in a single game round is capped at $500,000 or 10,000 times your bet, whichever is lower. It's important to note that even if you reach the maximum payout limit, the Bonus round will still continue. However, the maximum payout limit is only applied at the end of the game round.
Please be aware that if there is any malfunction during the game round, it will void the round, and any potential payouts will be forfeited.
Return to Player (RTP)
In terms of the Return to Player (RTP) percentage, the optimal theoretical RTP percentage for MONOPOLY Live is 96.23%. This percentage represents the average amount that players can expect to receive back from their bets over an extended period of gameplay.
| Bet | RTP |
| --- | --- |
| 1 | 92.88% |
| 2 | 96.23% |
| 5 | 91.30% |
| 10 | 96.02% |
| 2 ROLLS | 93.90% |
| 4 ROLLS | 93.67% |
FAQ
This information will be players to useful who are at the game MONOPOLY Live looking and want to play it for real money.
Does MONOPOLY Live slot have the maximum payout?
The maximum payout in MONOPOLY Live is determined by the game's rules and can reach up to $500,000 regardless of the bet size.
Who is the developer of MONOPOLY Live?
MONOPOLY Live is developed by Evolution Gaming, a leading provider of live casino games and software solutions.
What bonus games are in MONOPOLY Live
MONOPOLY Live features two bonus games:
1. Chance Card: If the wheel stops on the "CHANCE" segment, players are presented with a card that contains either a cash prize or a multiplier bonus. If it's a cash prize, the bet is returned along with the winnings. If it's a multiplier bonus, the game host spins the wheel again, and the multiplier won will multiply the winnings. If multiple multipliers are won consecutively, they are multiplied together.
2. Bonus Game: To participate in the Bonus game, players need to place a bet on "2 ROLLS" or "4 ROLLS". If the wheel stops on either of these segments, the Bonus game is triggered. In the Bonus game, two dice are rolled (if "2 ROLLS") or four dice are rolled (if "4 ROLLS"). A virtual Mr. Monopoly walks around the 3D Monopoly board, collecting cash and multiplier prizes. Various spaces on the board, such as Properties, Utilities, Railways, and Free Parking, have different prizes. Additional houses and hotels can be built on properties, increasing the prize amounts. The total Bonus game winnings are displayed and added to the player's Bonus win. If Mr. Monopoly stops on the "Go to Jail" space and moves to the Jail space, rolling doubles is required to get out. Rolling a double grants an additional free dice roll, except when used to get out of Jail. The Bonus game ends when no more rolls are left, and all Bonus winnings are paid along with the initial bet, returning the player to the main game.
Is it possible to talk to the live dealer of MONOPOLY Live?
Yes, it is possible to communicate with the live dealer of MONOPOLY Live. The live dealer interacts with the players through a live chat feature during the game. Players can use the chat to send messages, ask questions, or engage in conversations with the dealer. The dealer responds to the messages and creates an interactive and engaging atmosphere for the players participating in the game.
What is the RTP at MONOPOLY Live?
The Return to Player (RTP) percentage for MONOPOLY Live is 92.88%-96.23%. The RTP represents the theoretical average percentage of all bets that are returned to players over an extended period of gameplay. It indicates the potential long-term payout of the game. Please note that the RTP is a theoretical value and individual sessions may deviate from this percentage. Please check the table above
What is the maximum multiplier in MONOPOLY Live?
In MONOPOLY Live, the maximum multiplier that can be achieved is determined by the bonus game called "Chance." During the Chance bonus game, the wheel can land on a multiplier value of up to 10,000x. This means that if you have placed a bet on a segment that corresponds to the winning outcome and the wheel stops on a Chance segment with the maximum multiplier, your winnings will be multiplied by a significant amount. The maximum multiplier adds an exciting element of potential big wins to the game.
Can I play MONOPOLY Live in an online crypto casino?
Yes, it is possible to play MONOPOLY Live in some online crypto casinos. Cryptocurrency casinos often offer a variety of popular casino games, including live game shows like MONOPOLY Live. These platforms accept cryptocurrencies as a form of payment, allowing players to enjoy the game using digital currencies such as Bitcoin, Ethereum, or others. However, it's important to note that availability may vary depending on the specific crypto casino you choose to play at. It is recommended to check the supported games and payment options on the crypto casino's website before engaging in MONOPOLY Live or any other game.